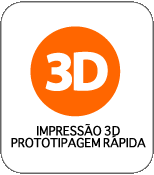 QUICK PROTOTYPING - 3D PRINTING
When developing a new product, it is very important to make sure that the project meets your application.
For this, KAE offers the rapid prototyping service, a safe and reliable way to guarantee the application of your product even before the development of its tools.
Send your 3D design to us and make your prototype with the highest quality on the market.
ENGINEERING SERVICES, SOLIDWORKS and 3D FDM PARTS PRINTING.
Discover some advantages of FDM technology:
​
​
• Production of small and large prototypes
• Quick DESIGN / PRODUCTION cycle
• Functional parts that can be painted
• Direct printing from 3D design
• Resistant and flexible ABS Plus parts that support screws
Here's how it works:
Watch our demo video here.
Technology based on .STL, SolidWorks, DXF 3D and DWG 3D files, IGES, STEP, Catia, Inventor.
FDM (Fusion Deposition Modeling) technology, ABS Plus material with an accuracy of 0.2540 mm / layer or 0.1778 mm / layer.
Contact us and quote your prototype.
Prototyping your new ideas has never been easier.
Are you thinking about developing a new product?
Find out what KAE can do for you and your company.
MEET OUR COMPLETE TECHNOLOGICAL STRUCTURE:
​